"Dearly beloved, we're gathered here today to get through this thing called life"
Sadly, we lost one of the true musical geniuses yesterday when Prince passed away at the far too young age of 57. Born Prince Rogers Nelson on June 7, 1958 he changed modern pop music with his blend of Jimi Hendrix and James Brown filtered through one of the most singular talents we've seen in modern music. The word genius is overused in our society and especially when talking about musical talents. In my mind there are less than ten and maybe even less than a handful. Surely, Prince was near or at the top of the list (his album credit generally read "all songs written, produced, composed, and performed by Prince, like McCartney and Stevie Wonder, he was genius enough to be his own completely brilliant band). He's been a favorite artist and an influence and inspiration to me in my own music for a long time. Here in tribute to The Purple One is my list of his top ten songs.
1. "Gotta Broken Heart Again"
I was at one point so obsessed with this song that I listened to it over and over again on my drive to and from work. I had a 40 minute drive and this song in only 2 minutes, so you can imagine how many times I've heard this song in my life. A simple song about losing his girl to his best friend, this is just a perfect pop song, culminating in Prince harmonizing with himself at the climax of the song so beautifully that it still gives me chills. Off his first masterpiece, 1980's
Dirty Mind
, it's my favorite Prince song.
2. "Purple Rain"
Rare is it that an artists most famous song actually might be their best, but "Purple Rain" is certainly Prince's defining track, serving as an enduring classic song, the name of his best movie and the accompanying mega-hit soundtrack that helped define the sound of 1980's pop for better or worse. It's a slow building ballad, mostly recorded live, with Prince's best and most impassioned vocals and some of his best guitar work. Every time I hear the break and Prince's pained "Honey, I know, I know, I know time have changed" I tear up a little bit simply from the power of his voice and song construction. Maybe I should've put this song #1.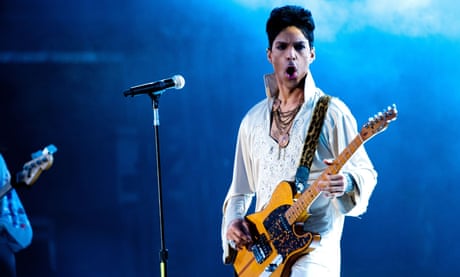 3. "Bambi"
My favorite Prince guitar solo is the scorching one he gives us on this Chasing Amy-esque song, a song telling a lesbian that sex is better with a man and Prince wants to prove it to her if she'll let him. You know, standard stuff from a 21-year-old in 1979. It's a hard rocking song with a funky and distorted guitar riff and high pitched yowls that would become a trademark. It all builds to a song ending, face melting solo before the fade out.
4. "Call My Name"
A later years Prince tune, the soulful R&B love song, showcasing Prince's underrated voice as well as his way with an ear worming chorus. A song about the beautifulness of monogamy and sex, it's a mature Prince, showing that just because he got more into his religious beliefs as he got older didn't mean he'd abandoned those sexy parts of his soul, and this song is wonderful proof.
5. "When You Were Mine"
A big hit when Cindy Lauper covered it in the 80's, this is another (like its album mate "Gotta Broken Heart Again") of Prince losing his girl to another man. Lauper's version is famous for not changing the pronouns in the song, indicating that she lost her boyfriend to another man. But Prince's original is full of yearning and passion and hurt. He loves this girl even more after he's lost her, but doesn't know what to do. Another brilliant, simple, short pop song from one of the best to ever make them.
6. "Let's Go Crazy"
One of Prince's most famous is this Purple Rain kick-off song. When I first began exploring Prince's music in earnest, this was the first song I heard, since naturally I decided to start with his most famous album. I thought the song was pretty good and I liked it a lot, then the teenage guitar player inside me found a new hero when everything stops and Prince delivers one of his best solos. Drenched in his wah wah pedal and at the height of his power, this was the song that hooked me into his music.
7. "Kiss"
Another of his most famous songs is this all-timer of a dance number. Prince was a particular kind of genius at creating every possible type of song. This one had no bass line, funky guitar, and Prince's high pitched vocals that are so high in his falsetto that they break sometimes. And somehow Prince made it all work. I'm still not quite sure how, but I listen to this song over and over again and never tired of it or really ever figure out why I love it so much.
8. "Raspberry Beret"
Maybe Prince's best set of melodies, "Raspberry Beret" is also just a terrific pop song. Not one of his most musically innovative or even interesting songs, it's really a testament to his genius of arranging his band and utilizing all of their talents as well as his own. The harmonizing vocals from Lisa are wonderful alongside Prince's easy chorus.
9. "When Doves Cry"
This was where Prince first really experimented with having no bass in a song. Prince was a tremendous bass player, capable of beautifully melodic of funk slapping brilliance, but here he tried something new and it worked like crazy. The lack of bass, something most listeners hear but aren't really paying attention to, gives the song an almost otherworldly tenor that makes it feel off balance. Prince contrasts that against heavily effected guitars and his famous yelping vocals tics evoking the crying birds of the title.
10. "Musicology"
Another of late era Prince that I adore, this was the starter track for Prince's comeback album in 2004. This title song is simply a funky, fun jam that you can't help but smile and dance to. Showing off his great bass skills and his always impressive and never praised enough vocals, this song is just fun and Prince having fun was always infectious.
You could make another top 10 or top 20 songs and not have a single dud in there. Like how could I make the list and not have "I Wanna Be Your Lover" "Darling Nikki" "Little Red Corvette" or "Head" (a song one of my bands used to play at gigs to great delight for all)? Because Prince was brilliant. Like Frank Zappa, he simply released too much material (and if legends are to be believed, his vault has many years of new music that we may get to hear now after his passing) so it can be daunting to dive in, but on every album there's something worth loving. If you wanted an intro into his genius, here you go. If you just wanted to relive his memory, I hope I helped. RIP you beautiful one.